Welcome to PMI Gujarat Chapter
It is our great pleasure to welcome all members of PMI Gujarat, India Chapter and those that are accessing our website! This is the right time to thank all volunteers and PM Community of Gujarat who has contributed immensely to keep the baton of Project Management alive in Gujarat, more specifically in Ahmedabad and Vadodara, under the umbrella guidance of PMI Mumbai Chapter. Your contribution has made everyone realize the potential lies in the Gujarat and nearby union territories (Diu, Daman, Silvassa, and Dadra Nagar Haveli) and hence, the formation of PMI's Gujarat Chapter.
We take opportunity to express our sincere thanks and gratitude to our regional mentor, PMI Asia Specific team and PMI Mumbai Chapter BODs for extending their support and guidance to realize the dream of establishing the PMI Gujarat, India Chapter.
PMI Gujarat, India Chapter is registered under the Bombay Society Act and governed by the Board of Directors that founded the trust. PMI Gujarat, India Chapter is also registered under the Act pf the Public Charitable Trust of Gujarat State on 08th July 2020.
The focus of the PMI Gujarat, India Chapter is to advance values and practices of Project Management and inculcate Project Management culture in the region, thereby developing and strengthening the PM community across the state.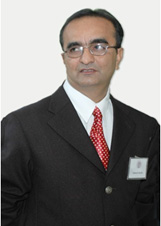 Dear Fellow Project Management Professionals of Gujarat.
Let me take this opportunity on behalf of the PMI Gujarat, India Chapter Board members to thank you for giving us an opportunity to serve our beloved PM membership and Community.
With the Vision "To be recognized as the organization of choice among PM professional across Gujarat by evangelizing Project Management within the Gujarat", our chapter has a clear mission – to serve society through relevant skill development program and provide networking opportunities for all members to continuously upgrade their Project Management knowledge and share learning and growth opportunities in field of project management.
View More…
Chapter will focus actively in collaborating with various Industries and academia. Apart from Certification and Training preparation courses, we will be focusing on various skill-based development training & workshop related to Project Management Framework. Further, our focus is to adopt the sector-specific webinars and training in the future to come.
Since the PMI Gujarat, India Chapter is in the initial stage, there are ample opportunities for everyone to grow and contribute as a volunteer. Your support and participation as volunteer will play an instrumental role. And so, I sincerely request fellow Project Management professionals of Gujarat to join PMI's Gujarat Chapter, and in our purpose to build a sound platform that can aid in strengthening state's Project Management community as a whole.
– Dr. Sanjay Buch, President
View Less…